~ 2015 PERMACUTURE CLASSES ~
---
Practical Permaculture
Finding Your Sustainability Niche
Sat May 23 – SEVA Foundation, South Kortright NY
Brief description:
Practical Permaculture — Finding Your Sustainability Niche
An introduction to Permaculture principles, ethics (of "Care for Earth, Care for People and recycling surplus through the network-system), and the basics of reading landscapes. Hands-on may include building A-frames water level tools and doing basic surveying of the land with site levels to lay out simple swales. How would this swale design alter water flow and soakage in and on the landscape? We may meet again in Sept or Oct if there is interest to review and re-examine what we observed and learned and see how our ideas would influence the local vegetation and environment.
Each student is encouraged to keep a notebook and chronicle their experiences and "ah-ha's" as they discover their niche in Earthworks.
Presenter: John-­eriK (InternetEarthworks.com) is a certified Permaculture Designer and Aquaponics enthusiast. He has studied Advanced Permaculture and Natural Resources Sciences, worked on and visited Permaculture Homesteads since 2007. Recent projects include rocket stove mass heaters, cob buliding, "herb spiral", "key-­hole" and Hugelkultur gardening, landscape surveying, restoring stream banks and creating swale-tree-irrigation systems.
---
Optical Surveying / Reading the Landscape
June 27-28 Workshop | East Meredith, New York
Where do you start in evaluating a landscape for its potential and challenges? Once you identify major features in the landscape, how can you understand the natural flows and how to harvest and store more water in the earth? Becoming familiar with the use of basic, hand-held optical surveying tools can help you become more intimately familiar with your property. Weather it's laying out trail systems, site pads, swales, ditches or ponds, basic, inexpensive "non battery operated" tools can be employed to great advantage.
Come learn the basics of map and compass reading, A-frame and water levels and how to layout level contours. Learn how to stake a gentle slope trail that can make it easier to transport supplies and materials through your property, while also serving as water collection features for ponds and swales.
Weekend course is June 27-28, 2015 In East Meredith, New York. This will be during the glorious summer in picturesque Northern Catskills. Camping will be available on the project property.
Click Here for more information and to register for the event. Early-bird discount ends May 15 and class size may be limited, so reserve your space now.
Limited Scholarships available – must request before May 15.
---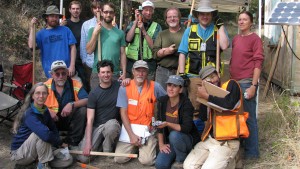 ---